Monday, February 13, 2006
---
>

Here I am, bloggin about the 4E1 Class Outing on 5/2/2006 (i think is this date) at Sentosa Siloso Beach.




They are building sandcastles, and if you notice, onli the GUYS are doing it. Girls are more rational, they know that building sandcastles are BORING, and u get TANNED more easily, and the weather is damn damn HOT. no way!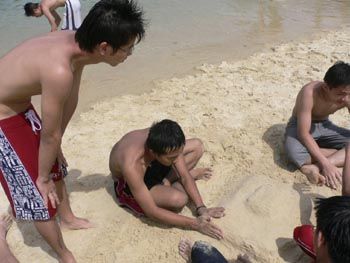 CLose-up view of the BUILDING of sandcastles in the AIR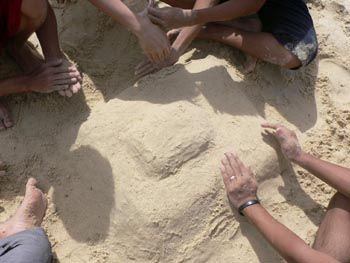 Group Photo! WIth Bikini KaiEe buried in the sand in the middle~~~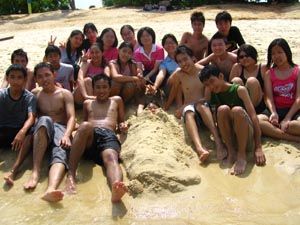 2nd Group Photo. SAME PPL, maybe alittle bit of changed positions! Thanks to HuiXin, who help us take the group photo.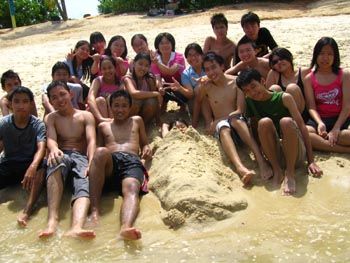 Ooooh... Girls and Topless Guys in the water~~ Ok, partly. See iris? Wearing all black at the back? She's SOOOO sexy! *drools* =X OH! and Guan MIng? Topless guy at the left. Our class genius. =D Lol, never imagine him in this clothing rite?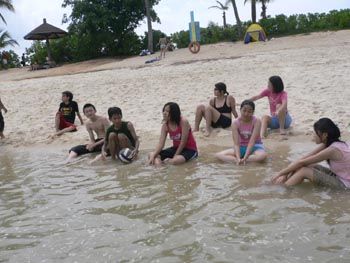 Front (onli showing head): ... No idea who he is...
Going clockwise: Jiawei - his splashin water to his neck, hot day, yeah~~
Sitting in a almost-lying position: Ridzwan: He's definitely lookin and laughin at something, but I dunno what.
Last: SHould be Weixian, if Im correct. PIc too small, eyes got myopia, hence dunno who =D]
ANyway, dun ogle at them coz they are guys and goin topless. =X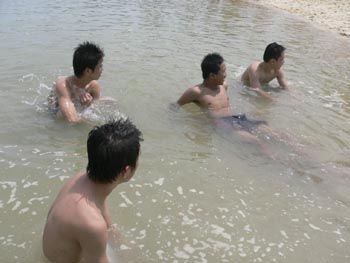 Grp Pic! From top left: HonLong, Iris, Clarice
Bottom Left: WenPey, ZhiXue


Good Friends Pic: Szeling (left), Jiali (Right)
Lookin closely, jiali's face is very red. SHe is already tanned by then. Damn! WHy do white skin ppl have such a skin characteristics!! I WAN WHITE SKIN!!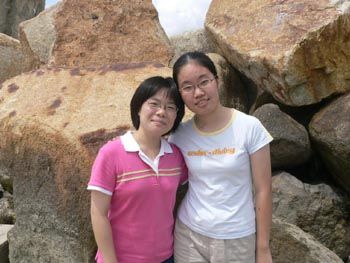 Oh yeah~ Candid shot of ShuJun~ Taken by Mr Hon Long. SHe looked kinda depressed in this pic, isnt it. According to Hon LOng, this pic was taken after she played with PeiYuan. So something muz have happened..... hehehe =D


Iris looked damn cool in this pic, most probably coz of the sunglasses. This pic looks totally natural. By the way, these 2 looked so sexy in their swimsuits~~


OK, here COMES~~~~~~~
THE NARCISSIST KING! Hon LOng! (hey i edited the pic, quite an effort rite? )


Sunset Pic 1 (by the time they took this pic, mi sj and hy already went home. to be exact, sj and hy were bathin and i was waiting for them at coffee bean look at the sunset too)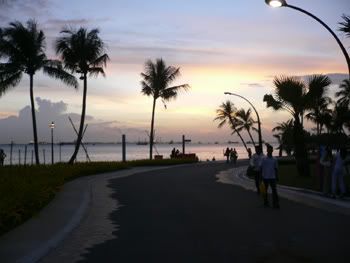 Grp pic 2! Sunset is always nice~ How do u differentiate sunset and dawn?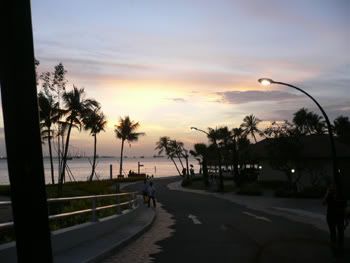 COnclusion: I hate sentosa. especially the beach. Im NOT goin there AGAIN. I dun wan to tan my already black black skin. I will go there again, once I've acquired the full-body-prevent-tanning-lotion, and when i've returned back to my normal skin mode.
I HATE THE SUN!!
BUt oh well, everyone there get all tanned and roasted. We are 1 big 4E1 family~ Yeah!
Get awesome blog templates like this one from BlogSkins.com